Free shipping for orders over $75
Product Info

Built around a newly patented pumping system, the Nanopresso is capable of reaching, with the help of your hands, a maximum of 18 bars (261 PSI) of stable pressure during extraction for unparalleled coffee quality. It is more than what most home espresso machines can deliver.

Achieving the perfect espresso shot is far from easy as many parameters play an important role during the brew process. Being consistent is even harder. Thanks to its innovative construction and easy operation, Nanopresso will help you brew perfect cups with a nice and dense crema layer every time.

Experience the pleasure of drinking high quality espresso, from the first sip to the last drop, wherever you are. All you need for your next shot is ground coffee, hot water and the Nanopresso. With the protective case, no need to worry about damaging or scratching your Nanopresso while you travel! 

In Stock:

3

Weight:

0.336 kg

Product Type:

Coffee Gear

Sku:

WACA-NANO-CASE-GREEN

Brand:

WACACO

Feature: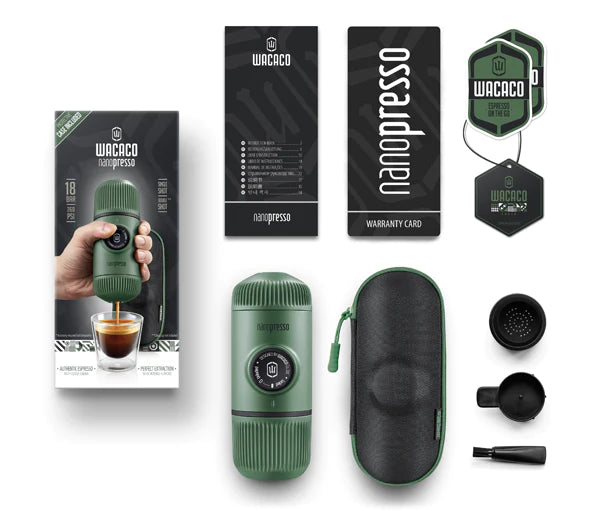 I. Introduction For many coffee lovers, there's nothing quite like a freshly ground cup of coffee to start the day. However, in order to achieve that perfect brew, it's important...
Read More
0 comments
Are you a specialty coffee drinker who's unsure about adding sugar to your brew? While some coffee enthusiasts believe that adding sugar can mask the true flavor of specialty coffee,...
Read More
0 comments
Elevate your coffee game with the Kruve Sifter base, the ultimate tool for sifting coffee beans by size. Achieve the perfect grind for your brewing method, experiment with different techniques,...
Read More
0 comments