Free shipping for orders over $75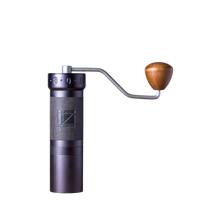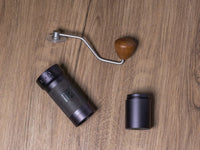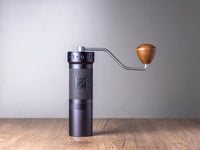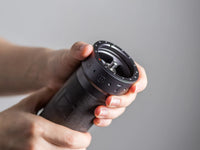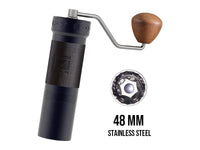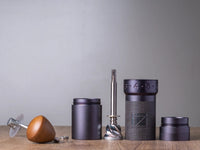 1Zpresso ZP6 Special Manual Grinder
The ultimate pour over grinder!
Product Info

1Zpresso ZP6 Special Manual Coffee Grinder

Introducing the 1Zpresso ZP6 Special Manual Coffee Grinder, a precision-engineered grinder designed to elevate the clarity of flavours in your pour-over brew. With its advanced features and high-quality construction, this grinder is a game-changer for coffee enthusiasts.

Featuring 48mm Hexagonal Stainless Steel burrs, the ZP6 Special is built to deliver exceptional grind consistency and extraction. These specialized burrs are designed specifically to enhance the clarity and depth of flavours in your pour-over coffee, ensuring a truly immersive and delightful brewing experience.

One of the standout features of the ZP6 Special is its finer adjustment-dial design, which allows for precise control over your grind size. With the External Adjustment Ring, a 2018 Red Dot Design Award Winner, you can intuitively and swiftly adjust the grind setting to meet your preferences. This innovative design brings the convenience and ease of use typically associated with electric grinders to the manual realm.

Equipped with 9 numbers and 90 clicks, the ZP6 Special offers unparalleled grind precision. Each click shifts the grind size by 22 microns, allowing you to fine-tune your grind to perfection. The top adjustment dial ensures easy and hassle-free adjustments, providing ultimate control over your coffee extraction.

Not only does the ZP6 Special excel in performance, but it also offers a comfortable grip and user-friendly design. The curved handle lever and ball knob make grinding effortless and ergonomic, ensuring a comfortable grip during each use. Additionally, the Quick-Disassembly Design allows for easy cleaning and maintenance, making it a breeze to keep your grinder in top shape.

Crafted with the highest standards of quality, the ZP6 Special boasts a hexagonal 48mm stainless steel burr. The burr shaft is securely affixed to the outer case of the grinder, eliminating burr wobble and ensuring consistent grind size. This design prevents any fluctuation or misalignment of the burrs, guaranteeing a uniform grind and optimal extraction.

Experience the ultimate pour-over brewing with the 1Zpresso ZP6 Special Manual Coffee Grinder. Unleash the true potential of your coffee beans and savour every sip with its unparalleled precision, clarity, and ease of use. Elevate your coffee journey and enjoy the exceptional performance that the ZP6 Special brings to your cup.

Package Contents:


1Zpresso ZP6 Special manual coffee grinder, comes with cleaning brush.


Product specification:

Weight: ~750g (1.65lb)
Dimension: 19.5 x 15 x 5.2 cm
Ground Capacity: 30-35 g - depending on bean type / size
Materials: Wood, polycarbonate, silicone, stainless steel, aluminum alloy


Notes:

- Do not clean the grinder with water. The grinder should only be cleaned with a dry brush, air blower, or other grinder specific cleaner/tablet.
- The burr of the grinder was calibrated and fixed in place by the 1Zpresso team. Disassembly of the burr may affect grind accuracy and cause damage to the grinder. Please take caution when taking your grinder apart.
- Please read the instruction manual and grind setting reference guide before use.
- There may be small scratches on the surface of the aluminum body, similar to that of brushed steel. This is normal and expected as part of the anodizing process.

All 1Zpresso products include a one-year limited warranty under normal usage.

In Stock:

0

Weight:

0.75 kg

Product Type:

Coffee Gear

Sku:

1Z-ZP6-IRON-GREY

Brand:

1Zpresso

Feature:
I. Introduction For many coffee lovers, there's nothing quite like a freshly ground cup of coffee to start the day. However, in order to achieve that perfect brew, it's important...
Read More
0 comments
Are you a specialty coffee drinker who's unsure about adding sugar to your brew? While some coffee enthusiasts believe that adding sugar can mask the true flavor of specialty coffee,...
Read More
0 comments
Elevate your coffee game with the Kruve Sifter base, the ultimate tool for sifting coffee beans by size. Achieve the perfect grind for your brewing method, experiment with different techniques,...
Read More
0 comments