Free shipping for orders over $75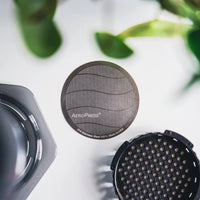 AeroPress Stainless Steel Filter
Brew, rinse, repeat
Product Info

Richer coffee is just one press away with our reusable metal coffee filter. It keeps out grounds but allows flavorful oils to pass through for delicious full-bodied coffee. Reusable, sustainable and 100% made in the USA.

The AeroPress reusable metal coffee filter is made from premium grade 316 stainless steel, which is much more durable than the 304 grade stainless steel used in other filters.

Ideal for home, office and travel
Sustainable and eco-friendly
Easy to clean: just rinse & dry or put in dishwasher
Compatible with AeroPress Original, AeroPress Clear and AeroPress Go coffee makers
Designed and made in the USA, by AeroPress Inc.

In Stock:

5

Weight:

0.01 kg

Product Type:

Coffee Gear

Sku:

AERO-METALFILTER-1PK

Brand:

Aeropress

Feature:
I. Introduction For many coffee lovers, there's nothing quite like a freshly ground cup of coffee to start the day. However, in order to achieve that perfect brew, it's important...
Read More
0 comments
Are you a specialty coffee drinker who's unsure about adding sugar to your brew? While some coffee enthusiasts believe that adding sugar can mask the true flavor of specialty coffee,...
Read More
0 comments
Elevate your coffee game with the Kruve Sifter base, the ultimate tool for sifting coffee beans by size. Achieve the perfect grind for your brewing method, experiment with different techniques,...
Read More
0 comments