Cyber Week SALE IS LIVE NOW!
4 Easy Ways to Make Better Tasting Coffee
Posted on August 02 2020, By: Geoff Lau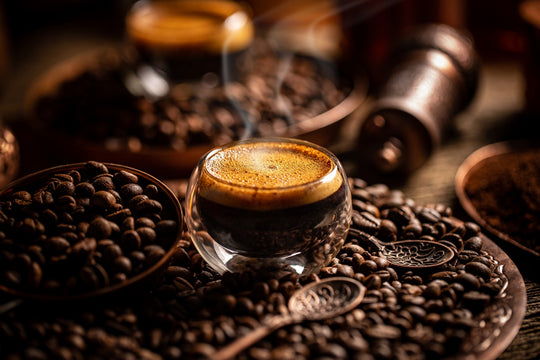 Does your coffee not taste good? Coffee is created with only two ingredients: water and coffee (grounds/whole bean). However, there is more to a better tasting cup of coffee than just mixing water and coffee. Here are 4 easy ways to master the art of brewing a cup of Joe at home like a pro.
1. THE WATER
Since water takes the majority of your coffee, so make sure you get the best quality. Sometimes, tap water isn't good for making a perfect cup of coffee due to the odor and taste it contains, mainly due to the amount of chlorine used for disinfection. If you smell a unique odor in your tap water, then avoid using it for the coffee and go with distilled water, otherwise, you can use filtered tap water just as well.
The SCA provides a guideline of what the optimum water should be to make the perfect cup of coffee: 
2. USE SPECIALTY QUALITY COFFEE BEANS
The coffee bean, being the other main ingredient in coffee, should be the highest quality that is available. The specialty quality coffee, which scores better than 80 points on the grading provided by SCA, is the best that you can get. 
The attributes that are considered into grading the coffee includes fragrance/aroma, flavour, the aftertaste, acidity, body, balance, sweetness, clean cup, uniformity, overall and defects. All these attributes are rated to arrive at the final scoring: Specialty coffee is scored 80 points and higher.
Most, if not all of the coffee beans readily available in supermarket or grocers are not in the specialty grade and you can really taste the difference. 
3. THE GOLDEN RATIO
The Golden Ratio is considered as the perfect ratio for all coffee brewing. For drip coffee brewing, which includes home coffee makers and bulk brewers, the ratio is 60 grams of coffee for 1 liter of water. It means the golden ratio is 1:17. But if you are going for a French press, where water sits with the ground coffee rather than passing through it, the best ratio is 1:14 or 1:15.
An average cup of coffee is 12 ounces or 336 grams, using the golden ratio, you will use 25 grams of coffee to 400 grams of water or 1 tablespoon of coffee beans to 17 tablespoons of water.
4. WATER TEMPERATURE
Since we are talking about making a perfect cup of coffee, so it is important to talk about every factor that matters. Once you find the best ratio for water to coffee, the next thing will be water temperature. To brew a balanced cup, the temperature of the water plays a key role in the extraction process. The best water temperature should be somewhere between 195 to 205 degrees Fahrenheit. 
Here's everything that you need to make a perfect cup of coffee for yourself at home. Enjoy!